Auctions are an art and a science. You need to wow your guests with great auction items and inspire bidding on those items. How can you make auction bidding more profitable for your nonprofit? We've broken down the science of better bidding. Read on for four tips to earn more money from your silent auction items while easily managing incoming bids.
The price is right
Setting your starting bid amount is key to attracting bids and making money on your auction items. But how do you know how to set the starting bid of an auction item? The key is conducting product research!
Determine the fair market value
Find similar items and compare prices across websites and in stores if possible. This helps determine what your item typically sells for. With auctions, bidders are looking for a deal. You should set the starting price below fair market value to show your guests the potential for a great deal. Setting the starting bid around 25-30% of the fair market value gives bidders the chance to win the item well below market value. As the bids come in, your bidders will make an emotional connection with the items they're interested in and are more likely to bid higher than the original bar they've set.
Exceptions to the rule
Not all auction items are created equal. There are notable exceptions to the rule of 30% fair market value as a starting point for bids.
Auction items you bought
The first exception: purchased items. Obviously, you want auction items donated to your event at no cost. However, sometimes that isn't possible. You may need to occasionally purchase auction items at a discounted price to fill out your auction offerings. If you're auctioning off a purchased item, keep in mind what you paid. You'll need to set a starting price closer to what you purchased the item for to ensure you break even. This potentially limits bidders' interest if the price is too high. Try to only purchase items you can get for well below the fair market value. To avoid losing money, set a reserve price close to what you paid and offer a buy-it-now price for a reasonable amount that's close to fair market value and earns you a profit on the item.
Unique and high-value items
It can be hard to evaluate the worth of high value or one-of-a-kind items. Whether they sell is often dependent on your guest list. However, vacation packages, event tickets, and one-of-a-kind memorabilia can sell for an incredibly high price. You can try to research the fair market value, but it can be harder with these items.
Instead, determine what it cost the donor to provide this item and set their cost as a reserve price. Set a slightly higher starting bid, but don't set it so high that guests won't want to bid if the price is driven up. Or you could keep starting bids low and set a higher bid increment to make more money while pricing these big-ticket items attractively. Another attractive option for many auction guests would be to offer a buy-it-now price on unique and expensive items. Give bidders the option to purchase high value auction items outright at slightly under fair market value but above your cost for the items. This option would guarantee you make a profit and bidders can easily acquire attractive auction packages.
For auction item ideas, check out our 25 virtual auction item ideas!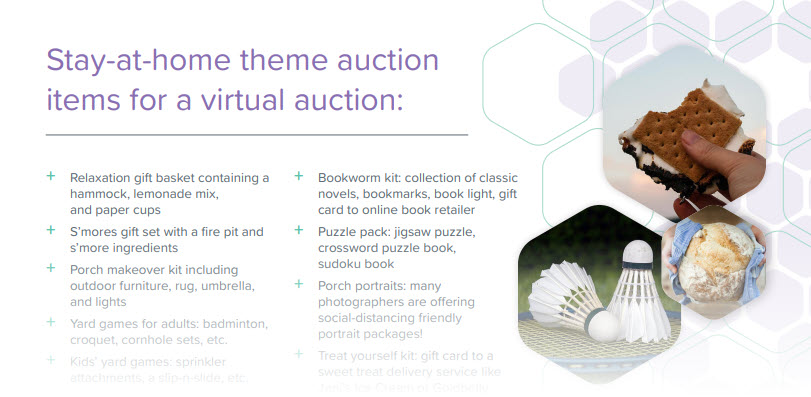 Set sensible bid increments
With a starting bid in place, set a bid increment that drives bids. For items with a known fair market value, aim to earn 70% of its retail price. Make bidding better for you and your guests by setting a bid increment that's low enough to attract bids but high enough to get you to 70% of the item's value in as few bids as possible. The general rule of thumb for silent auctions is to make the bid increment 10% of the fair market value. If you've set the starting bid at 30%, you can reach 70% in as few as four additional bids. Anything above those four bids earns you an above average return on the item.
A blanket 10% bid increment sounds good on paper, but sometimes the fair market price means a 10% bid increment isn't a whole number. Make it easier on yourself and your bidders by rounding the increment to the nearest whole dollar amount.
Reserve the right to set reserve prices
Just because bidders bid on items you're selling doesn't mean you have to lose money on a particularly expensive item. If you or an item donor will lose money on an item that didn't get enough bids to break even, you can set a reserve price to avoid selling an item far below its value. The reserve is the minimum bid your auction item must reach before you transfer ownership to a bidder. Reserve prices aren't for every auction item. However, if your organization spent a significant amount on an item or if you were gifted a unique piece that collectors would want, a reserve price is the best way to protect that initial investment. Just because your item didn't fetch the price you expected doesn't mean you can't get that price from the right buyer. 
Monitor your results after the auction and pay attention to items where the reserve wasn't met. This helps determine if the item was overvalued or if it was the wrong package for your crowd. This is valuable information you can bring to the table when planning for your next auction.
Use the right tools to manage auction bids
Bidding on paper bid sheets can be a deterrent to your event. In this time of virtual events, paper bid sheets would make your auction impossible to host safely while remaining profitable. Even before the pandemic, guests had to continuously get up to monitor the items they wanted to win. Plus, your event program can interfere with bidding. Instead, let guests bid on auction items on their phones or computers.
An auction management platform can make managing bidding on auction items a better experience for your guests and can save your nonprofit a lot of time and effort when it comes to determining winners and managing payments.
Qgiv's auction platform empowers nonprofits to manage their auction from start to finish and offers multiple bidding solutions for guests. Your attendees can bid one-handed, enable auto bidding they can set and forget, and check out using a credit card or echeck—all from the Givi app. That increased automation saves nonprofits tons of time and makes you more money. With comprehensive auction software, you don't have to worry about bidders leaving early. Billing automatically occurs when the auction ends! Check out this blog post for additional benefits of Qgiv's auction software.
Conclusion
Get to know the ins and outs of the auction bidding experience. Gaining an understanding of an item's fair market value makes setting a fair starting bid and bid increment much easier. Keep a 70% return on an item's worth in mind so you can reach that target in as few as four bids. For high value items, use your best judgment for a starting bid and bid increment. Set reserve prices to avoid losing money on big ticket items. The ultimate way to drive bids and make the bidding process more profitable is to move away from paper bid sheets and use auction software to manage bidding instead. With Qgiv's auction platform, your bidders can place bids from anywhere, which is especially attractive during the COVID-19 pandemic.
Looking for more resources to make your auction event unforgettable? Here are our ideas for 25 virtual auction items to help you put together fun packages for your next event. To make auction planning go smoothly, use our auction planner as a guide.