Ah, the fundraising gala. If you've worked as a fundraiser for long enough, chances are someone has pitched this type of fundraising event before. But what is a gala event? Is it right for your nonprofit? And if you do host a gala event, how can you make it successful? Read on to learn all about this tried and true fundraising event.
What is a fundraising gala?
A gala event is typically thought of as a sophisticated party. Guests dress up, enjoy food, socializing, and maybe some dancing. Nonprofits began using these gala events to entertain their supporters before asking for donations to their cause. A fundraising gala is a party during which an organization asks for donations to their cause. Many fundraisers also host silent or live auctions and other sub-events during the gala to raise funds.
Much of the time, gala events are upscale social events. A theme isn't required, but can be implemented to enhance the fun or make it easier to select the decor for the evening. More lighthearted galas give guests the opportunity to choose their own decor and decorate their table.
Is a fundraising gala right for you?
Now that we've explored what a fundraising gala can look like, let's determine if it's right for your organization. Ask yourself:
Who are our supporters? What demographics give to us? Would our target audiences attend a gala?
Does a gala event match the mission, voice, and personality of our organization?
What kinds of events have we been successful with? If your activity-based events have performed better than sit-down, formal events like a gala may not be the right event for you.
A gala event may not be the ideal event for every nonprofit, but the versatility of this type of event can make it a great fundraiser for many different types and sizes of nonprofit organizations.
Tailoring your gala event to your audience
If you're planning to host a gala event, it's important to make sure the event is tailored to your ideal audience. This means adjusting the level of formality for your target audience, planning activities that resonate with your community, and determining what the decor and entertainment needs should be. Consider these tips for tailoring your gala event to your audience.
Should you call your fundraising gala a gala?
Picture a fundraising gala. Did you envision an upscale, formal event?
Often, that's what people think of when they're invited to a gala. That can excite some of your supporters and leave others feeling less enthusiastic. Calling your event a gala can either attract participants or scare them off depending on who your donors are.
But galas can be adapted to different audiences and themes. So, if you think a formal gala isn't right for you, consider calling it something else. A gala is still a gala even if you call it a party, bash, or hootenanny.
Design the gala around your audience
By using your donor data, you should have an idea of who your average supporter is. If you're hosting a gala event, try to build the experience around your audience's expectations.
For instance, a more formal audience may require upscale decor, a refined menu, classical music, etc. While an audience made up of families might require a kid-friendly environment, decor that's colorful and fun, a menu with kids meals, activities for kids to participate in, etc.
While you can consider both of these parties gala events, they're going to attract vastly different types of attendees.
A great example of this is the Nemours Children's Hospital's virtual Health Care Heroes gala event. This event celebrates donors and staff who make a difference in the lives of children in the hospital's care. The event featured a star-studded cast of celebrities like Joey Fatone of N'Sync and a performance by American Idol performer Alyssa Raghu. The virtual event not only helped make donors and staff feel like stars themselves, the evening was appropriate and exciting for families watching at home.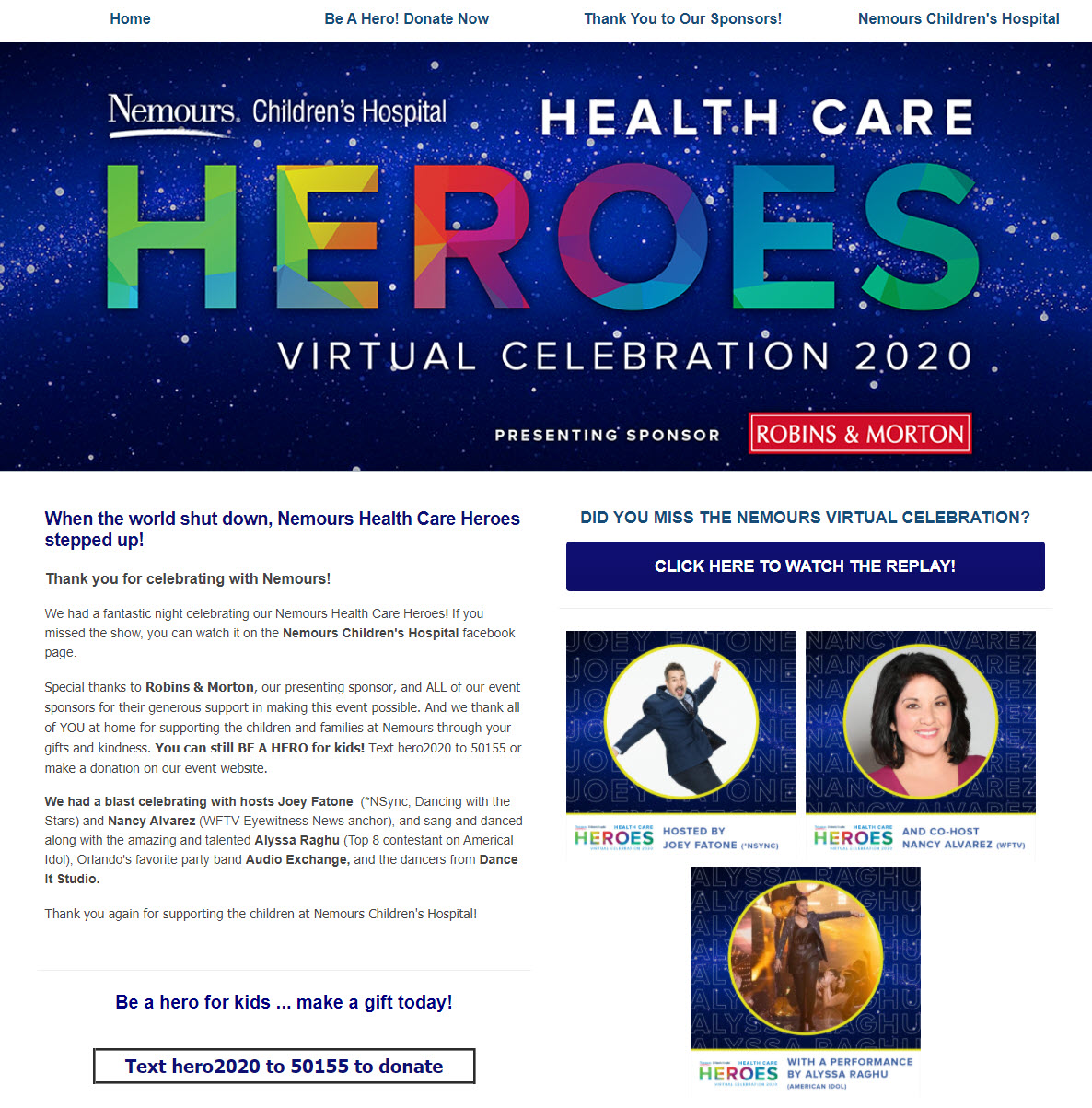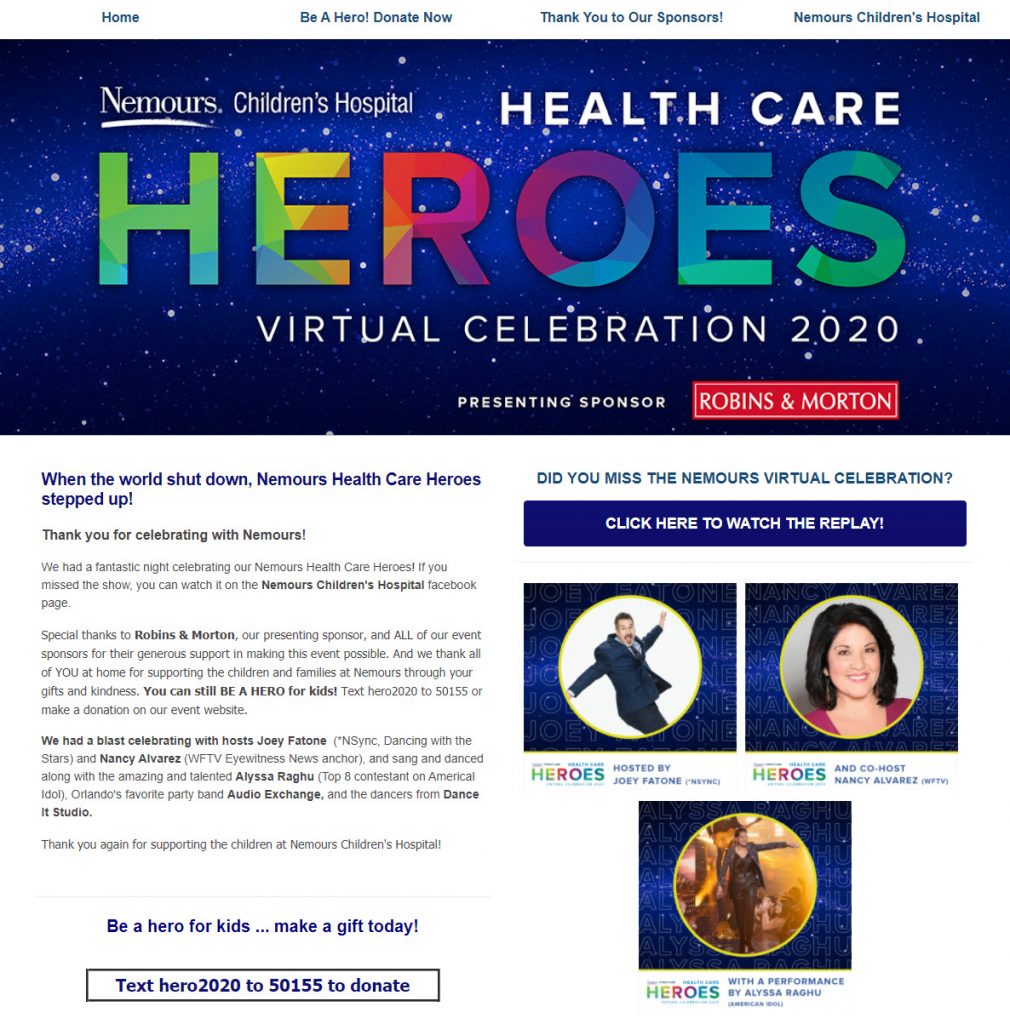 Tips for hosting a fundraising gala event
If you've decided to host your first gala event, or want to be successful hosting your annual fundraising gala, these tips will help boost the fundraising performance of your gala.
Incorporate sub-events
Sub-events are a great way to raise additional funds at your event. Some of the best sub-events for galas are auctions, raffles, table decorating and/or costume contests, and games that guests pay to play. Just make sure that any sub-event ideas you use match the audience and theme of your event. Doing so ensures more people will participate.
Say no to cash-only events
You're probably not surprised to learn that not everyone carries cash. Digital payment options have made paying by credit card, eChecks, or even smartphone apps incredibly convenient. Your gala event may attract a lot of participants, but if they need to rely on cash to participate you're leaving money on the table.
Instead, set your gala event up for success by using software to take electronic payments at your event. Be sure your guests can pay with credit card and eChecks. With Qgiv, guests can also use the Givi app to make donations or bid on auction items if you're hosting an auction sub-event. Providing fast and convenient ways to pay encourages donors to give more during your event.
Make your fundraising gala accessible
2020 taught us that virtual and hybrid events can make for excellent fundraisers. That rule applies to gala events! Even if you fill every seat in the house, you can still delight participants who miss out on attending your sold out in-person gala. Incorporate virtual audiences into your fundraising gala.
To make your gala event accessible to virtual guests, livestream the festivities and encourage virtual guests to take part in auctions and raffles from home. You can get them involved with fundraising by incorporating a text fundraising tool and an ability to show progress toward your fundraising goals.
With Qgiv's Mobile Suite package, nonprofits can set up a FundHub Live and broadcast their fundraising progress to both in-person and virtual guests and accept donations via text! It doesn't get more accessible than that!
Seattle Shakespeare Company's 2020 Bills Bash event pivoted to a virtual format because of the pandemic, but did an excellent job of making the event accessible to guests at home.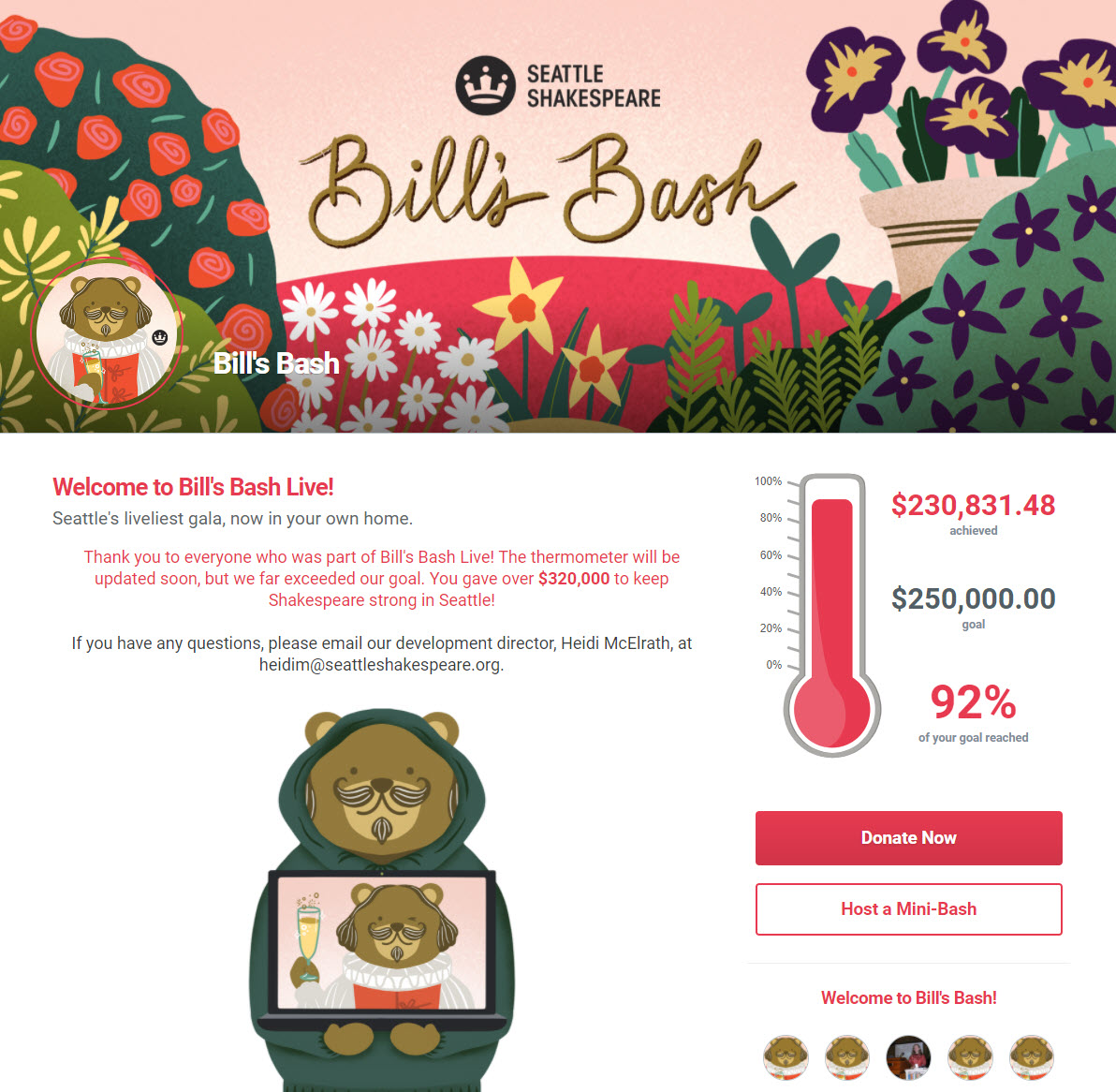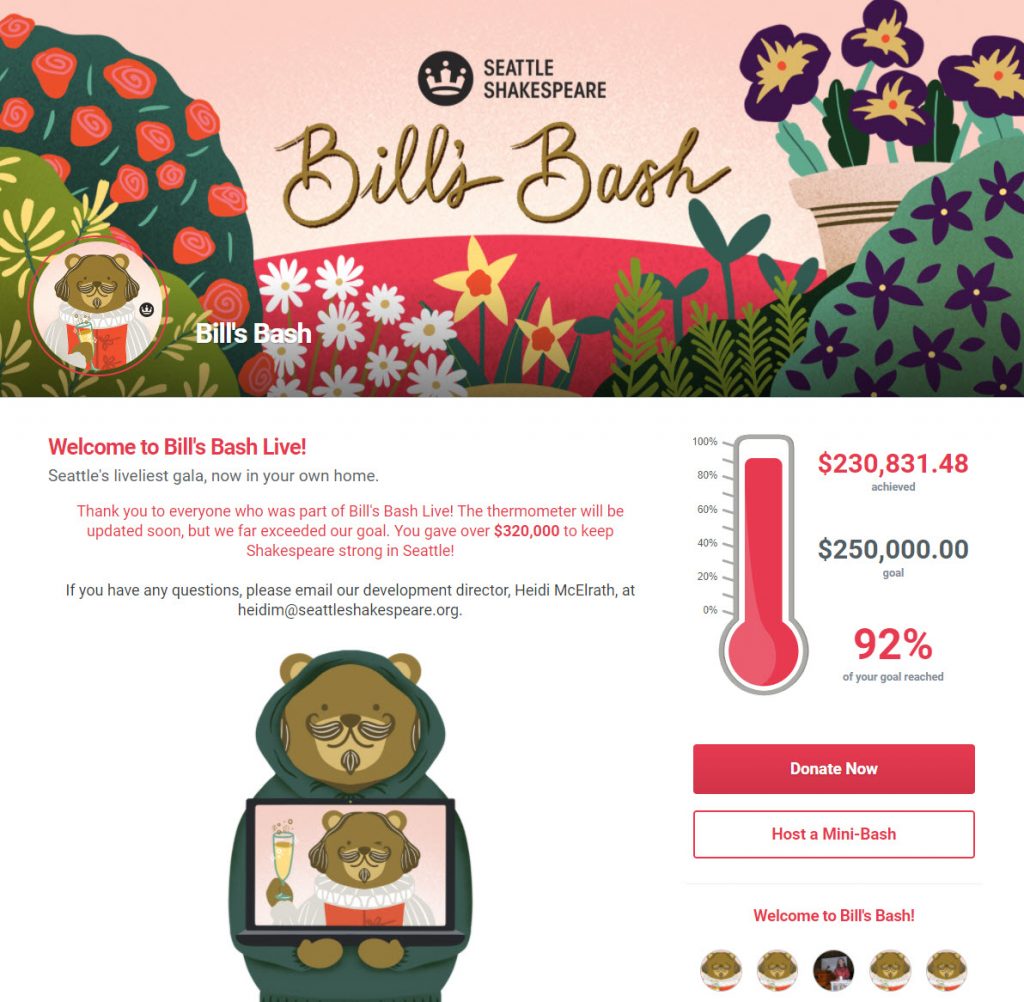 Conclusion
Fundraising gala events are a great opportunity to raise funds for your organization. The key to being successful with this type of event is catering it to your audience and the mission you're raising funds for. You'll also need to have a solid plan in place, the right sub-events for your gala, and the ability to accept payments of any type during the event. While a gala event may not be right for every nonprofit, they've proven to be a valuable fundraiser for the right nonprofits.
Qgiv offers online fundraising tools that make hosting fundraising gala events a snap. Request a demo to see how Qgiv's suite of tools can help make your next fundraiser more successful.